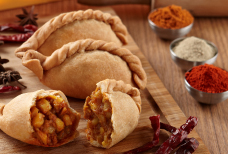 Authentic dishes, express delivery
If you feeling homesick or curious to unveil the Singaporean traditional style of food, this is your place! What makes Old Chang Kee delivery so special is how they put their soul in designing original dishes. That dedication is reflected in each recipe and embodies a unique promise, aspiration and personality. Do not miss their crispy and scrumptious varieties of seafood snacks. Add the signature sambal chilli into the equation and you got the perfect love story! You can choose from Fishball, Sotong Head, Sotong Wing, Fish Fillet, Crab Claw, Balls of Fiery, Breaded Prawn, Sotong Ball, Sardine'O, Prawn Nugget and Crab Nuggets. Just check out Old Chang Kee on our site!
Make no mistake: It is passion which makes Old Chang Kee perfect: From their humble beginnings in 1956 in a small stall in a coffee shop near the then Rex Cinema to their skyrocketing success during the 80s, Old Chang Kee has consistently delighted Singaporean and foreign palates alike with their high quality Chinese food. Enjoy the bestsellers Cheesy Chicken Sausage Onstik, Chicken Nugget Onstik and crispy Chicken Wing. As a main, we recommend Chicken Mushroom'O: A savory puff filled with potatoes, button mushrooms, juicy chicken pieces and diced carrots. A non-spicy family favourite.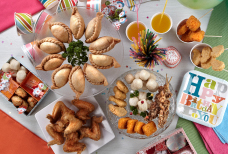 Singaporean cuisine with soul
Eating delicious takeaway food is always a good idea when you are craving authentic Singaporean food. From Bento to amazing curries, there is something to suit everyone in the varied Old Chang Kee menu. So take a look at what is on offer and get yourself in a real banquet, making sure to explore the fantastic selection of starters and sides to go alongside your main course when you order from this restaurant. Old Chang Kee delivery provides traditional comfort food at its best. It is always a good time to get an Old Chang Kee delivery: Whether you are committed to a working lunch in the office and want to treat yourself to some deep fried delicacies to keep yourself going, or whether you want to give your partner a surprise romantic dinner, the Old Chang Kee menu will have lots to inspire you.
Why not get an Old Chang Kee delivery this evening? There is so much variety on the menu that even if you have a large family with different tastes, everyone is sure to be satisfied when you book with this takeaway. Old Chang Kee Singapore is the go to takeaway for locals who are looking for something delicious to eat with their friends when they have a film night, or people heading home after a night out who are in need of a satisfying snack. And, of course, you can create an elegant family meal in with an Old Chang Kee delivery as well. So why not make a weekly takeaway from this restaurant into a family tradition in your house? There is always something new on the menu to try.
From foodpanda with love